WHITEFISH WINTER CARNIVAL
Once upon a time, there lived a god named Ullr who reigned over winter activities in the Nordic regions. Aiding him were his Prime Minister and Queen, who were skilled in creating the beauties of winter.
Winter Carnival week is here! If your from Montana you know how long the winters can be. Winter Carnival is an escape from the cold by embracing it fully, creating silly pageantry and of course, excessive partying and mayhem. 
This song came to me after opening to the idea that I needed to write something for the carnival. I am always amazed how the creative process works.  
See you at the parade!
WHEN THE LAND BELONGED TO GOD
I got to spend some time with Colt Idol the other day in his artist studio. If you don't know about Colt, you should! 
He's an incredible artist and great guy! I thought it would be fun to combine one of my songs with his art work and create a little music video. 
If you ever find yourself in Whitefish, Montana - check out the Dick Idol Gallery on Main Street and see some of the amazing western artists they represent. 
Hope you enjoy!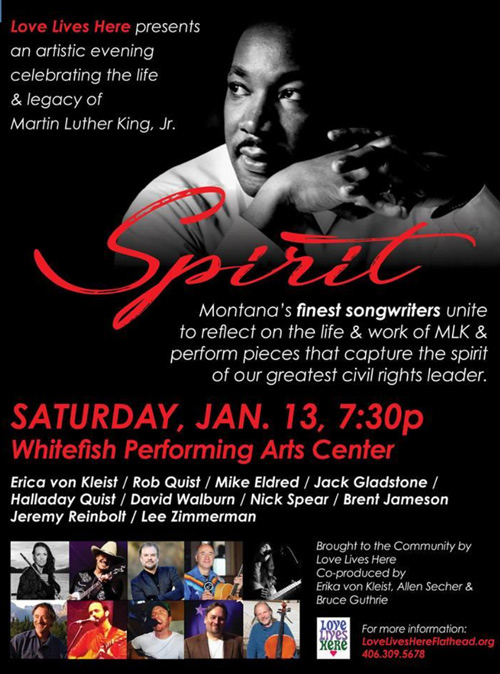 I am very honored to be a part of the Martin Luther King celebration in Whitefish this year along with other local talented songwriters & performers. 
I will be playing two songs for the occasion:
Jesus & His Love
I Have A Dream
If you are nearby, this will be an amazing event honoring the spirit of an amazing man. 
Here is a link to my interview with NICKY OUELLET from Montana Public Radion: One Flathead Valley Songwriter's Take On Martin Luther King Jr. 
Jesus & His Love | I Have A Dream
Sign Up for my Montana Songwriter Newsletter
If you want to stay in touch - please consider signing up for my quarterly newsletter where I'll share new music, upcoming live performances and other Montana Songwriter news!  {I promise no spam!}